With full cooperation, Shiv Sena President Uddhav Thackeray has hinted the possibility of reconciliation with his warring cousin Raj Thackeray as would welcome any offer of an alliance in the interests of the Marathi people.
"If Raj Thackeray wants an alliance with the Shiv Sena, we will welcome him. I welcome every one who is genuinely willing to join hands with us," Uddhav told reporters in the interview to the party mouthpiece Saamna,
One step ahead taken by Uddhav, the son of the late party supremo Bal Thackeray as an effort to join hands with Raj is the direction ahead for the party.
Raj's MNS and Shiv Sena both political completing outfits if come together it would surly the biggest threat for NCP and Congress in Maharashtra politics.
"This is a question that the two of us (Raj and I) have to sit together and discuss. The two of us have to decide the answer together," Sena President said.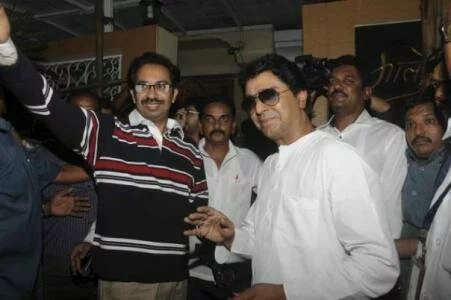 "One cannot clap with a single hand. Tell me, can you ?", he further added.
The move will augur well for the Marathi manoos, an attempt to capture void in the Marathi votebank ahead of the 2014 Lok Sabha elections.
Uddhav has said to have recovered and come out of the shock of Sena Supremo's death in Last November which has led to a large scale defection of legislators.
Mr. Raj Thackeray who had split from Shiv Sena in 2006 and formed the Maharashtra Navnirman Sena (MNS), from then he is likely to capture the space created by the demise of Shiv Sena founder Bal Thackeray to gain an upper hand in Maratha.