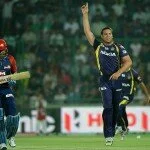 The Indian Premier League 2012 [IPL 2012] match between the top two teams of IPL season 5 was Played at Feroz Shah Kotla, Delhi 7 May 2012 – day/night (20-over match).
The Kolkata Knight Riders takes on top position Delhi Daredevils yesterday, Gautam Gambhir led Kolkata Knight Riders [KKR] beats Sehwag led Delhi Daredevils [DD] to grab the top position in the 2012 DLF IPL points table.
Earlier, Delhi skipper Virender Sehwag won the toss and elected to bat first, Sehwag did the early firework with 23 runs from 9 balls hitting 3 fours and one big six, but Kallis caught him LBW in the 4th over of the match.
Opener Warner, played 21 runs knock, helped with Jayawardene's 30 runs, Taylor contributed with 16 runs and Irfan Pathan gave 36 runs support to his team.
Delhi Daredevisl made 153 runs in their limited 20 overs of the match. Kallis was the pick of the bowlers talking 2 wickets from 20 runs in 4 overs.
Batting second, Kolkata Knight Riders started their innings very strongly, with Gauthim and McCullum playing some wonderful cricketing shorts allover the ground. Skipper Gauthim made 36 runs and McCullum hit his fifty with seven fours.
Jacques Kallis made important 30 runs and was named Man-Of-The-Match.
In presentation, Jacques Kallis said, "It has been a fantastic season for us. Captain has had a fantastic season. Our wicket at Kolkata does not have this sort of carry. It was good to deliver on this sort of wicket. We are focussing on trying to end up first or second and get through to the final."
KKR skipper Gautam Gambhir [on his relationship with Sehwag] said, "Absolutely. This is just the IPL. I have all the respect for him, He is the one I always admire."
DD skipper Sehwag said, "I think we were 20-25 runs short. We did not capitalise in the middle overs. Sunil Narine bowled really well. [Narine will] not work against me, I have played him and will smash him, but others might have a problem against him because he is difficult to pick. But he is a good young bowler, he is learning fast. 150-odd was not a bad total, our fielding and bowling was not upto the mark, when you are giving boundary balls, it is difficult to set a field. We decided to give the spinner [Nadeem] a chance because Gautam is batting well against the fast bowlers."
Scoreboard
Delhi Daredevils: D. Warner c McCullum b Kallis 21 (19b, 2×4, 1×6), V. Sehwag lbw b Kallis 23 (9b, 3×4, 1×6), M. Jayawardene (run out) 30 (27b, 3×4, 1×6), R. Taylor c Bhatia b Sangwan 16 (27b), Irfan st. McCullum b Narine 36 (22b, 4×4, 1×6), Y. Nagar b Lee 10 (7b, 1×4), N. Ojha c Tiwary b Narine 2 (6b), M. Morkel (run out) 0 (0b), S. Nadeem (not out) 0 (2b), V. Aaron (run out) 1 (1b);
Extras (b-1, lb-2, wd-11): 14; Total (for nine wkts in 20 overs): 153.
Fall of wickets: 1-40 (Sehwag), 2-49 (Warner), 3-95 (Jayawardene), 4-100 (Taylor), 5-125 (Nagar), 6-146 (Ojha), 7-152 (Pathan), 8-152 (Morkel), 9-153 (Aaron).
Kolkata Knight Riders bowling: Lee 4-0-39-1, Sangwan 4-0-42-1, Kallis 4-0-20-2, Narine 4-0-23-2, Bhatia 4-0-26-0.
Kolkata Knight Riders: B. McCullum c Sehwag b Umesh 56 (44b, 7×4), G. Gambhir b Aaron 36 (21b, 4×4, 1×6), J. Kallis c Ojha b Umesh 30 (27b, 2×4), M. Tiwary c Irfan b Morkel 8 (6b), Yusuf (not out) 7 (11b), D. Das (not out) 1 (3b); Extras (b-4, lb-5, w-7): 6; Total (for four wkts. in 18.4 overs): 154.
Fall of wickets: 1-68 (Gambhir), 2-128 (Kallis), 3-128 (McCullum), 4-147 (Tiwary).
Delhi Daredevils bowling: Irfan 3-0-28-0, Nadeem 4-0-32-0, Morkel 4-0-35-1, Umesh 4-0-30-2, Aaron 3.4-0-20-1.
Man-of-the-match: J. Kallis.
Umpires JD Cloete (South Africa) and S Ravi
TV umpire SJA Taufel (Australia)
Match referee AJ Pycroft (Zimbabwe)
Reserve umpire R Risodkar