Being limelight at BJP meet with fabricate praise by the top leadership, Gujarat Chief Minister Narendra Modi today attacked Congress, calling Prime Minister Manmohan Singh a 'night watch man' of Gandhi family.
BJP itself pitching as the sole alternative to Congress in its National Council meet, set to planning tactics ahead of General Election 2014 with base of series of scams against UPA government.
Amid chorus for making him the BJP's prime ministerial candidature, Modi accused UPA, for a coalition of corrupt and has followed the tradition to sacrifice the nation's interest for the sake of one family.
"They appointed a night watchman by naming Manmohan Singh as prime minister…the prime minister is nothing but a puppet of the Gandhi family," Modi said, as per sources.
The strongman of saffron who scheduled to speak on 'good governance' in Gujarat, but his speech was likely election centered against Congress led UPA.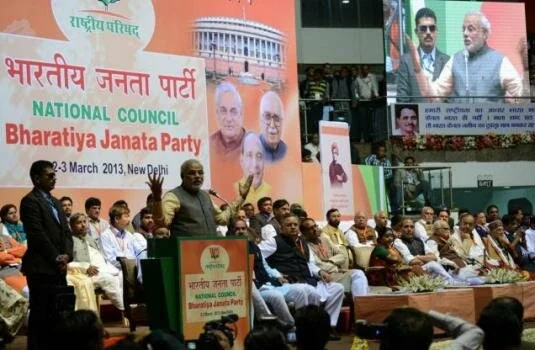 BJP's political resolution declared a unanimously decisive change in country to rid of corruption, but backing with "good governance' by the NDA under the leadership of BJP.
With the record third consecutive victory in Gujarat, Modi become the strongest player of BJP for its constitution and for PM candidature, gladly welcomed by BJP newly elected Chief Rajnath Singh.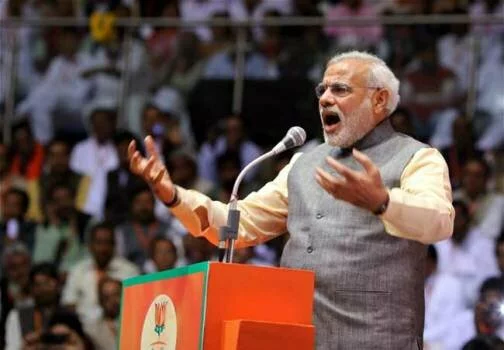 Modi's speech cheered by more than 2000 gathered partymen, set on national issues along with who the party's prime ministerial candidate would be. While his counterpart Madhya Pradesh and Chhattisgarh CM Shivraj Singh Chouhan and Raman Singh highlighting achievements of their governments.