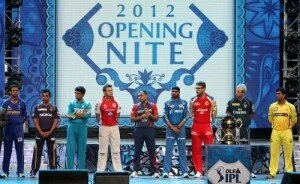 The Indian Premier League 2012 is on, and millions of cricket fans are ready to feel the thunder and excitement of cricket. Today, cricket will be at it's best.
Two times winner, Chennai Super Kings will take on Mumbai Indians in the opening match today night.
Meet the captains of IPL Teams. Starting from Winning team of last season.
MS Dhoni, Chennai Super Kings: MS Dhoni has made his place very special in Indian cricket as well as in international cricket, and now he is also the most successful captain in IPL history as well. Under his captaincy, Chennai Super Kings has won two titles of IPL.
Daniel Vettori, Royal Challengers Bangalore: The cricketer from New Zealand earlier played for Delhi Daredevils in the first three seasons of IPL. He played for Royal Challengers in the last season, and will be leading the side after Anil Kumble announced retirement.
Harbhajan Singh, Mumbai Indians: He is the newly appointed captain of Mumbai Indians after Sachin Tendulkar leaves captaincy on Monday. Harabhajan has already showed his power of captaincy in the Champions League Twenty20, in 2011 in the absence of an injured Tendulkar.
Gautam Gambhir, Kolkata Knight Riders: In the first three season of IPL, he played for Delhi Daredevils, but last season he was bought by the Kolkata Knight Riders at the IPL Players' Auction 2011 for a record price of $2.4 million. Ganbhir has 378 runs from 15 innings last year under his belt.
Rahul Dravid, Rajasthan Royals: In last year's IPL, he is the highest run-scorer for his team. Earlier he lead Royal Challengers Bangalore, but was signed by Rajasthan Royals during the IPL Players' Auction 2011.
Virender Sehwag, Delhi Daredevils: Virender Sehwag is the player who holds his place from the very first season of IPL. He is star cricketer for his team, and really a player to watch. If he is at his best, then watching his batting is like a true pleasure for anyone. Sehwag is the cricketer who can change the game in one over.
Adam Gilchrist, Kings XI Punjab: The former Australian wicket-keeper-batsman is one of the most dangerous batsmen in the T20 league. The left-hander was part of the Deccan Chargers for the first three seasons. He has been playing for Kings XI Punjab since 2011.
Kumar Sangakkara, Deccan Chargers: A fine cricketer in all formats of the game. Played for Kings XI Punjab in the first three seasons before the Chargers bought him at the 2011 Auction.
Sourav Ganguly, Pune Warriors India: the former Indian cricket team captain and the person, whose presence in any team, matter a lot. He is like a one-man army in cricket. He earlier played for Kolkata Knight Riders and brought by Pune Warriors India last season. He will be leading the team in the absence Yuvraj Singh.