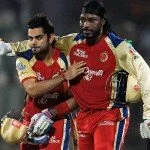 Once again the Big man from West Indies, Chris Gayle blasted with his bat in the match played Royal Challengers Bangalore vs Delhi Daredevils, the 67th Indian Premier League [IPL] match played at Feroz Shah Kotla, Delhi 17 May 2012 – day/night (20-over match).
Chris Gayle and Virat Kohli made a record 104 runs partnership in the match. Chris Gayle, the hard hitter of the ball, blasted with his bat once again with record 13 huge sixes and seven fours. He made 128 runs not out from just 67 balls.
He was well supported by skipper Virat Kohli who made 73 runs from 53 balls with nine fours and one six. RCB made big total of 215 runs in the 20 overs plays, which is very hard to achieve.
The Delhi Daredevils were playing without their star performer Virender Sehwag and pacer Morne Morkel. None of the Delhi batsman looked in good touch with the bat, and lost quick wickets.
RCB bowlers Parameswaran and Zaheer Khan took three wickets each. With this win, RCB has high hopes to make their way into playoffs.
Presentation:
RCB skipper Virat Kohli, "Exciting game of cricket, good pitch to bat on. Batting with Chris is a wonderful experience, lot of them could have taken my head off at the non-striker's end, we need to win the last game to make it to the playoffs."
DD skipper Jayawardene, "He is in tremendous form, especially on a small ground like this, it was always going to be difficult to contain them. Still we could chase it down, unfortunately we could not. Morne was the only player rested, Viru was sick, we needed to give Russell a chance. We have played enough T20 cricket to realise this happens and we need to just try and improve from here.
Man of The Match, Chris Gayle, "Secret behind those sixes, good balance and it helps to have a pitch where the ball comes up to the bat, it is natural, trying not to move around, couple of innings have me moving around which does not help. Thanks to Virat Kohli for his support at the other end. Maiden over is okay, as long as I am there till the end, it helps to get the runs."
Scoreboard:
Royal Challengers Bangalore: C. Gayle (not out) 128 (62b, 7×4, 13×6), T. Dilshan c Irfan b Aaron 10 (7b, 2×4), V. Kohli (not out) 73 (53b, 9×4, 1×6); Extras (nb-2, w-2): 4; Total (for one wkt. in 20 overs): 215.
Fall of wicket: 1-11 (Dilshan).
Delhi Daredevils bowling: Irfan 4-0-44-0, Umesh 4-1-42-0, Aaron 4-0-38-1, Russell 4-0-41-0, Negi 3-0-37-0, Venugopala 1-0-13-0.
Delhi Daredevils: U. Chand c Harshal Patel b Vinay 18 (10b, 2×4, 1×6), D. Warner c Vinay b Zaheer 15 (9b, 2×4, 1×6), Venugopala c Harshal Patel b Muralitharan 36 (24b, 4×4, 1×6), M. Jayawardene c de Villiers b Parameswaran 9 (14b), R. Taylor c Agarwal b Vinay 55 (26b, 7×4, 2×6), N. Ojha c Tiwary b Zaheer 13 (12b, 1×4), A. Russell c Kohli b Parameswaran 31 (15b, 1×4, 3×6), Irfan c Dilshan b Zaheer 4 (4b), P. Negi (not out) 6 (4b, 1×4), Umesh c Tiwary b Parameswaran 0 (2b); Extras (lb-3, w-4): 7; Total (for nine wkts. in 20 overs): 194.
Fall of wickets: 1-17 (Warner), 2-45 (Chand), 3-69 (Jayawardene), 4-107 (Venugopala), 5-151 (Ojha), 6-159 (Taylor), 7-171 (Irfan), 8-192 (Russell), 9-194 (Umesh).
Royal Challengers Bangalore bowling: Dilshan 1-0-11-0, Zaheer 4-0-38-3, Vinay 4-0-35-2, Harshal Patel 4-0-33-0, Muralitharan 4-0-44-1, Parameswaran 3-0-30-3.
Man-of-the-match: C. Gayle.
Umpires HDPK Dharmasena (Sri Lanka) and SS Shamsuddin
TV umpire BNJ Oxenford (Australia)
Match referee AJ Pycroft (Zimbabwe)
Reserve umpire R Risodkar