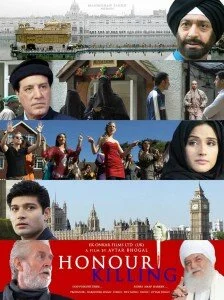 As per the latest Bollywood news, the much awaited film Honour Killings (Rubbaa Maaf Karien in Punjabi) is all set to hit the big screen very soon.
The film is based on a very sensitive issue 'Honour Killings', and is directed by Avtar Bhogal. The film is being produced by Manmohan Singh and Harjinder Singh, the music of the film is composed by Music Ditrector Uttam Singh, Lyricist Dev Kohli and the writer of the film is R.S. Aatish.
Moreover, the director of the film, Avtar Bhogal, well-know for his superhit film Zakhmi Aurat, has teamed up with his tem member for the making of UK's burning social cause honour killings.
The film is a love story of Punjabi Hindu boy and Muslim Girl.
Further, if we talk about the story of the film, it is based on a friendship of three friends, an Englishman, a Sardar and a Pathan. They are very good friends with great bonding between them, though there are sometime problems between the Pathan and the Sarda, but the Englishman always sort out the differences.
Now, the love story in the film starts from the englishman's daughter marriage in UK, Sardar's son Sunny [Sandeep Singh] who comes all the way from Punjab to UK for further studies, meets with Pathan's daughter Sameera [Pakistani actress Zara Sheikh]. Their friendship turned out to be a great love story.
Further talking to us, the director of the film Avtar Bhogal said that the film is shoot in UK in Slogh.
The main lead in the film is played by Pakistani actress Zara Sheikh and UK-based Sandeep Singh, Jawed Sheikh [Paksitan], Gulshan Grover [India], Tom Alter [India] and Prem Chopra [India], will also be seen in the playing important roles.
To enjoy the further story, go to cinema and see the film. This film will really touch the heart of everyone and is a lesson to all of us.
To know more, you can contact us on Facebook on our page, [http://www.facebook.com/pages/Honour-Killings/150818804951594].
The official page of director Avtar Bhogal on Facebook [http://www.facebook.com/profile.php?id=842743907&sk=info].