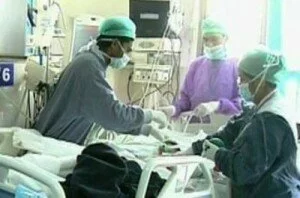 FIR has filed by Delhi Police against an unknown person in the case baby brutality case under which two year old baby, named Falak, has beaten very badly along with several injuries on her head , cardiac arrest, broken arms and her body marked by "human bits".
Falak is admitted in the All India Institue of Medical Sciences (AIIMS) where she is struggling for her life. Doctors shifted her at the neurosurgery ICU of the AIIMS trauma centre for ventilator support. But her chances of survival are only 30-40% and if doctors will able to save her life then it will be not sure that she will be able to lead a simple life due to many heavy injuries that damaged her head and made her to stay in coma.
However as per Police report, the victim has been brought at AIIMS on 18 January by a 15-year-old mentally disturbed girl, Mahi who claimed to be victim's mother and said that the baby was injured due to fallen from the bed.
Claiming that Mahi was lying because Falak's injuries never signed even a little fact of falling from bed, Dr M C Misra, chief of Jai Prakash Narayan AIIMS Trauma Centre stated, "Falak was brought to us in a bitten and battered state on 18 January. Her head was badly smashed, she had broken arms, bite marks all over her body and her cheeks branded with hot iron. The teenaged girl who brought her to us claimed that the present state was a result of her falling off from the bed, which is unbelievable."
Doctors also said that the main thing that they wants to do is baby's physical test to sort out the sign of virus that may be arise due to attempts of human bite on her body, but as per gynecologist the test will be performed after her recovery.
As per Delhi Police report, Mahi had run away with a boy for marriage and had been living with him (her husband) in Sangam Vihar. A month ago she got the baby from her husband who got her from maid servant.
Now Mahi has been handed over to the child welfare committee. But the Police are trying to made the investigations to trace Falak's parents.