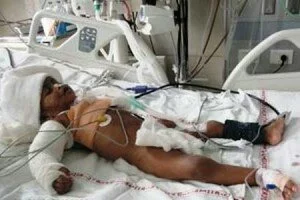 Falak's battle for survival is still continuing. After went out from ventilator, now again two-year-old Falak, who was being battered by a teenage girl, has been put back on ventilator.
The baby girl was admitted in AIIMS Jan 18, on a critical condition with severe head injuries and marks of human bites over her body, by a 14-year-old girl who is now in a juvenile home.
Falak was taken off the ventilator early Friday, but as per report of AIIMS's doctors, Falak had breathing problems since Saturday night and it is essential for her to put back on ventilator support.
All India Institute of Medical Sciences (AIIMS) doctors are monitoring her condition regularly, but still her condition is critical. A tube has attached to her mouth for feeding.
Deepak Agrawal, assistant professor, neurosurgery, at the AIIMS Trauma Centre said, "She is still critical as the culture test report had indicated that she has infection in her blood, brain fluid and chest."
Falak has infected with human bite through which virus infected to her chest, brain and blood. The doctors are giving her strong antibiotics as meditation.
However this process will be continuing for two to three days to see how changes in her condition, and if the infection increase, then another surgery would be performed for her life to survive.