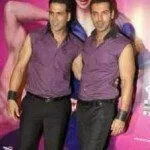 The new hunk of Bollywood, John Abraham has recently said in an interview that he shares a very special equation offscreen with Actor Akshay Kumar.
John has teamed up with Akshay Kumar after six years for 'Desi Boyz', he said the film is an extension of their brotherly love.
While talking to media the actor said, "The film does bring our `bromance` onscreen. Akshay and I share a very special equation and the film is an extension of our offscreen and onscreen bonding."
John Abraham will be sharing the big screen with Akshay Kumar and the Film`s leading ladies, Deepika Padukone and Chitrangada Singh.
Meanwhile, Rohit Dhawan, son of a well-known director David Dhawan, is the director of the film 'Desi Boyz'.
Talking to media, Akshay said, "Rohit`s style is different from his dad."
He said, "The way Rohit has made this film is very different from the kind of comedy films we have seen. His take is exactly opposite from that of his father`s works. Rohit is a happy-go-lucky person and very honest with his work, and his way of dealing with comedy is very subtle."
The story of the film is based on two friends who become a victim of recession, how their friendship sours and how they end up being employed as pole dancers.