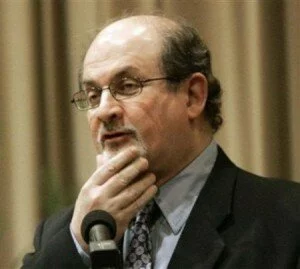 In India an influential Islamic seminary demanded that Salman Rashdie should be banned from entering the country to attend a literature festival later this month, but British author Salman Rushdie has dismissed their demand.
Along with his fellow writers such as Lionel Shriver and Richard Dawkins, Rushdieis due to speak in the city of Jaipur . He was threatened with death in a "fatwa" order from Iran over his 1988 novel "The Satanic Verses".
However the world's most important Islamic universities The Darululoom Deoband seminary has been accused in the media of inspiring radical Islamic groups such as the Taliban.
Calling Indian govt. for cancelling Rushdie's Visa, Maulana Qasim Nomani, a seminary official said, " The man whose blasphemous writings have hurt the sentiments of Muslims all over the world must not be allowed to set foot on Indian soil."