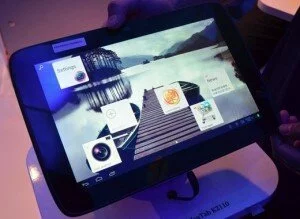 Intel announced its first Lenovo tablet based on its upcoming Atom Chips named "Medfield" today and said Window 8 based tablets is due to the second half of this year.
Addressing the Consumer Electronics Show in Las Vegas, Intel's CEO Paul Otellini declared that after years of struggle by chip maker, Intel is coming in market with Atom processor smartphone.
Otellini said, "The best of Intel computing is now coming to smartphones." He added that a Windows 8 tablet based on a next-generation Atom was on the way.
As per the report, Intel's freshly-minted Medfield Atom processor that is powering the Lenovo K800 smart phone, is also powered the Lenovo IdeaTab K2110 tablet.
However the schedule to release this Android Ice Cream Sandwich-based tablet Lenovo IdeaTab K2110 is going in the second quarter.
On Tuesday, Lenovo and Motorola has also released smartphones based on Intel's upcoming Atom chips code-named Medfield.
A Lenovo K800 smartphone demonstrated with Intel's x 86 chips has a 4.5-inch screen that can display video at 720p resolution, and an Atom Z2460 chip, which runs at 1.6GHz. It will first come to the China market in the second quarter this year; will be based on the Lenovo LeOS user interface.
Intel also announced that with Motorola it would cover smartphone and tablet market under a multi-year, multi-product agreement. CEO of Motorola Mobility, Sanjay Jha announced yesterday, "The Motorola phone will be released in the second half of this year. We will have devices and carrier validation this summer."
Besides Motorola, Intel and Lenovo are declaring a more futuristic Lenovo tablet that running Windows 8 with Intel's next-generation Atom chip, dubbed Clover Trail.
Clover Trail chip that deals with two processor cores (Medfield has only one) and a higher-performance graphics engine distinguishes itself from Medfield.
Intel is not the one that used Clover Trail, Hybrid tablet-laptop designs will also use both Clover Trail and Intel's high-performance Ivy Bridge processor.
Now for tracking on right platform Clover Trail will be Intel's first choice for Windows 8 tablets that due in the second half of this year.