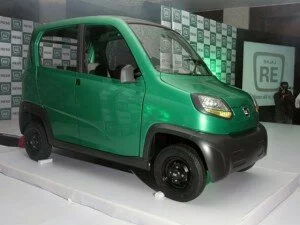 Bajaj Auto Ltd launched its first four-wheeled vehicle, saying the RE60, today. It is an ultra low cost car whose target would be commercial users and three-wheeled vehicle owners in India.
The unveiling of the four-seater RE60 has low carbon emissions and fuel efficiency.
Rajiv Bajaj, managing director of the group which is best known for its motorbikes and three-wheelers said, "At Bajaj Auto, we believe the people of the planet deserve much better, much faster."
Now the world's cheapest car, Tata Nano that already entered into small car manufacturing segment of market, will face a tough competition with its 200cc vehicle.