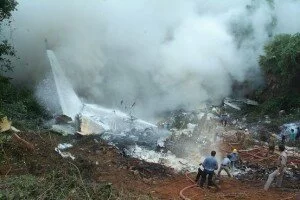 The notice regarding compensating to the families of 158 people who dead in the May 2010 Mangalore air crash has been issued to decided to the Centre and Air India by The Supreme Court.
Today, The Justice Dalveer Bhandari issued notice on a plea seeking minimum Rs 75 lakh compensation Mangalore plane crash victims and asked the Centre and the national carrier to respond and fixed the matter for final hearing in April.
In fact, all such issue has been made on a petition filed by Mohammed Rafiq Salam. Salam's son, who was working in Dubai, had lost in the crash. He was coming home a month after his sister's wedding.
Salam approached the apex court challenging the verdict of a Division Bench of Kerala High Court and case was directed by the Senior advocate Harish Salve who pleaded the court that the victims' families should be compensated according to the Montreal Convention under which the petitioners are entitled to have 1 lakh SDR (Special Drawing Rights) compensation . SDRs are issued by the International Monetary fund and covert to nearly Rs 75 lakh.
While a single judge Bench of the Kerala High Court, in July 2011, had rejected Salam's plea and said that the carrier was liable to pay no fault liability of 1 lakh SDR to the petitioner, but recently SC agrees to hear plea for higher compensation to Mangalore plane crash victims.
However the Mangalore air crash had happened on May 22, 2010 that led to the death of 158 passengers and crew onboard the Air India aircraft from Dubai at the time when the plane caught fire after one of its wings hit a hillock at Kenjar in Mangalore.