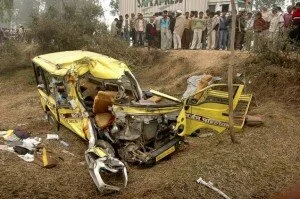 As per the latest reports, around 11 school children were killed and 20 other left injured when they were on their way to school today morning.
Reports have said that an overloaded school van carrying students collided with a truck due to dense fog on Saha-Shahabad road near Ambala today morning.
While talking to media, police officials said, the accident took place due to less visibility and the two vehicles collided near Bhita village, about 15 km from Ambala City.
All the children were in the age group of 5-8 years. The school van carrying students of Arjun Public School located in Saha.