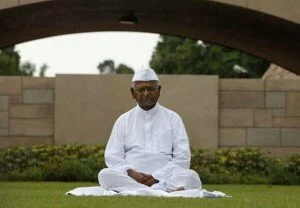 The meeting of core committee of team Anna has been postponed due to Anti-corruption crusader Anna Hazare's ill-health.
The anti-corruption campaigner has been suffering from severe chest congestion and admitted in the Pune hospital. The doctors advised him not to fast for one month due to his falling immunity.
Dr Parag Sancheti, who is examining Anna, said, "Hazare has been advised seven days' rest in hospital even as his condition has improved slightly. He had breakfast today (Sunday). He should not fast at any cost for another month."
To get this opportunity of Anna Hazare remain out of action for at least a month , IAC's plan to tour the five poll-bound states is likely to be put on a backburner.
On the other side Key team Anna member Arvind Kejriwal will meet Anna in the Pune hospital today. Anna-Kejriwal meeting is seemed to be based to decide the future course of action against Congress in 5 poll bound states.
A frail Anna Hazare assured the nation, "Anna is on the road to recovery and vowing to fight till his last breath, but the doctors examining his health advising him to desist from fasting in the near future."
Moreover Anna's health is determining to go ahead of much improvement and indications are made that Anna Team has decided a lot for their next mode of protest and hit the streets to campaign against the Congress as promised in states headed for polls.