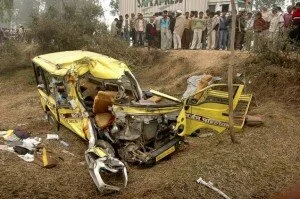 As per the latest reports, around 11 school children were killed and 20 other left injured when they were on their way to school today morning.
Reports have said that an overloaded school van carrying students collided with a truck due to dense fog on Saha-Shahabad road near Ambala today morning.
While talking to media, police officials said, the accident took place due to less visibility and the two vehicles collided near Bhita village, about 15 km from Ambala City.
All the children were in the age group of 5-8 years. The school van carrying students of Arjun Public School located in Saha.
Further, briefing to media, police official said, "The driver of the van succumbed to his injuries later and the truck driver escaped from the accident spot."
Meanwhile, all the injured students were soon shifted to Ambala, and the most serious students were shifted to hospitals in Chandigarh.
In the meantime, Haryana chief minister Bhupinder Singh Hooda announced a magisterial probe to look into the circumstances leading to the accident.
Bhupinder Singh Hooda, who visited the injured in the Chandigarh hospital, had called free treatment for the injured children as well as financial help of Rs 1 lakh each to the next of the kin of the deceased, Rs 25,000 each to seriously injured and Rs 10,000 each to injured.
In addition, the senior officials of Ambala district administration have visited the accident spot to help in save and relief measures.
From the spot of accident, the district administration has ordered school authorities to start functioning from 10am as against the present timings of between 7 and 8am.