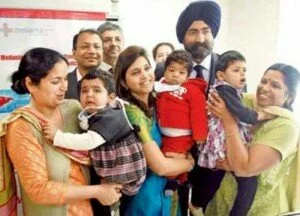 In Gurgaon's Medanta Medicity Hospital, New Delhi, Tejasree, Ansa and Anish named children who were suffering from liver disease, has successfully operated after having 20 hours operation with team of 40 doctors and 110 staff members.
Amongst them Ansa, 22-month-old lives in Kashmir and one-year-old Anish from Gaziabaad , both were suffered from biliary atresia.
The three-year-old Tejasree who brought from Gandhinagar in Gujarat had lead to Maple syrup urine disease (MSUD) due to which she could not digest even milk and had to only drink milk that their relative would send from the US which cost about Rs 50,000 a month.