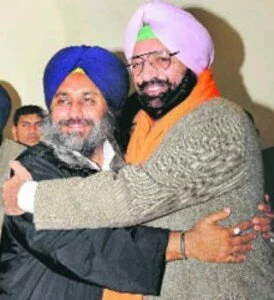 A strong attack has made over the Punjab polls to Congress as harassment, while Malwinder Singh, younger brother of the party's state unit chief Captain Amarinder Singh, quit the outfit.
On Saturday after being denied a ticket in favour of Amarinder's son Raninder, Malvinder, 67, joined archrival Shiromani Akali Dal (SAD).
In fact, like his brother Amarinder, Malvinder is an Army Captain. Before joining Congress in 1977, he served the forces for 12 years.
However Malwinder has never fought an election. He has taken a decision as like former Punjab finance minister Manpreet Badal who had rebelled against his uncle, Punjab CM Parkash Singh Badal and left the party to float his own outfit for one and a half ago.
A source reported that Sukhbir Badal , SAD president represented Malwinder virtually as a trophy for him while he entered into SAD yesterday.