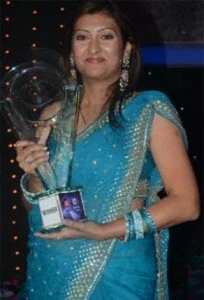 Beating her opponent Mahek Chahal , the most Popular television star KumKum, Juhi Parmar won winner title in 'Bigg Boss season-5' a big controversial reality show with winning amount of 1 crore beside a trophy .
Juhi Parmar was one who reached the grand finale along with four other contestants Akashdeep Saigal, Siddharth Bhardwaj, Amar Upadhyay, Juhi and Mahek and finally won after a long journey of the fifth season of 'Bigg Boss'.
Although Salman and Sanjay, the hosts called up one by one name and finally they announced Juhi as the winner. [Salman and Sanjay] too grooved in two popular songs, Aila Re Aila Re' and Dhinka Chika'.
After Shweta Tiwari, Juhi is the second female contestant to win 'Bigg Boss'. According to her, it is her second inning as like her 'weighty' issues had kept her away from small screen.
Interviewing Media, Juhi told reporter, "It is like a second innings for me….I wanted to start work but only after reducing weight…getting in proper shape. I was away from work for a year or so. My weight was a big hindrance in my career. I had gained weight due to medical reasons. But no excuses are accepted in the industry. For me the struggle was to lose weight…my target was that."
While Juhi had lost 10 kgs before she getting into Bigg Boss and after going to the show she lost four kgs.
She never expected to stay last longer, expressing her feeling she said, "The feeling has yet to sink in. Forget about winning the show I had never expected to be there till finale. I felt as I was not the focal point of the show I may not last longer. As I never picked up fights or anything of that sort," "I was not the silent player. I used to talk, laugh, cry, voice my opinion, stood up for the truth,"she added.
Fights and controversies do not help any contestant in the long run and not even being a x factor of attraction. "If I pick up fights and all that was concerned then I wouldn't have won the show. I have hardly had any major fight on the show. It takes you ahead in the show as it does not help you in winning. That is not the mantra," she said.
Asking her plans to spend prize money, Juhi said that she would keep it for her kid.
Tagged as: bigg boss 5 winner juhi parmar, Bigg Boss season 5, Bigg Boss season 5 winner, Bollywood, Colors TV, Entertainment, Featured, Juhi Parmar, Mahek Chahal, NTN, Reality Show, Salman and Sanjay, Salman Khan, Sanjay Dutt

Published by Himmat Mehra in: Bollywood Entertainment
If you like this blog please take a second from your precious time and subscribe to my rss feed!