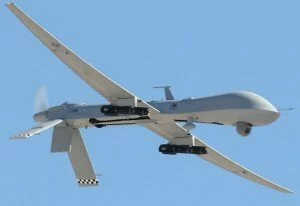 As per report reveals by local intelligence officials, A US drone attack has killed at least three militants in Pakistan's tribal area.
Though US have not made official comment on this but a source reported that it was US drone.
He said a house just outside the town of Miranshah in North Waziristan, near the Afghan border hit by US missiles.
However in November when US released its first raid as Nato helicopter strike on the Afghan border straining ties between Washington and Islamabad, 24 Pakistani soldiers were killed, then due to cutting off vital Nato supply lines after November's strike, Pakistan had closed its border with Afghanistan.
But later US military released a report that confirmed that during the incident both countries had made mistakes.
It blamed that this Nato strike was resulted of having poor information and inadequate co-ordination between US and Pakistani forces on the ground.
Though, it again fired on a Pakistan militant target by a US-operated drone indicating the signal of new war from US side.