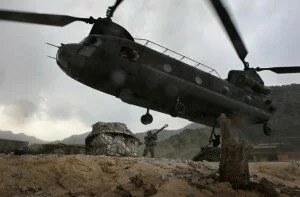 As per NATO's news released, six members of NATO force has killed on Thursday when a helicopter crashed in southern Afghanistan.
The international military force did not display the identity of those killed until they had notified their families and govt. NATO refused to explain any definite cause of this helicopter crash and said that there had been no insurgent activity in the area at the time of the crash and that its cause was under investigation.
This activity has looked as the attempt of Taliban who had tried to crash a military helicopter in eastern Afghan on last August with a rocket-propelled grenade, in which all 38 members of U.S. and Afghan military were killed. Navy SEALs unit that killed Al Qaeda leader Osama bin Laden was also included in it.
However it seemed to be a huge loss of American troops under the battle in Afghan, But on report of the Thursday's helicopter crash NATO is not seeking it attempt of Taliban while the incident happened on the same day when a suicide attacker came outside the Kandahar air field with an explosives-laden vehicles as two pickup trucks that used by American special forces. A Blast attempted by him that killed seven civilians, was accepted by Taliban in form of responsibility to targeted NATO troops.
But calling it a coward ship the coalition warned Taliban to stop killing innocent people of the country. It also rejected the death of NATO troops under bombing and fighting after the blast.
In its statement it said, "There was no follow-on attacks and no disruption to operations at the base."
Meanwhile NATO has rescued the thought of resolving the war between the Taliban and Karzai's government as per future approaches to provide security to Afghan troops, but new approach of opening a political office in the Persian Gulf state of Qatar for negotiations will be hope to proceed.