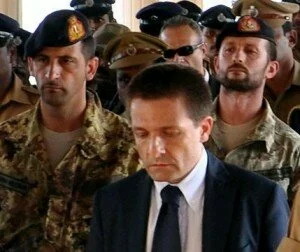 Today the case of killed two Indian fishermen turns to be political issue after Italy authorities arrested of two Italian marines of ship "Enrica Lexie" who shot two fishermen from Kerala at sea on Sunday.
And this is criticized by Indian police because under Act of Indian Penal code, they were already filed FIR against both marines, on the basis of that incident had happened in Indian terrestrial water.
It is really against Indian law and today in form of further action against Italy, the Indian police will move the Kerala High Court today seeking quashing of the FIR against the marines.
However seeing the signs of diplomatic crisis, now Italian authorities are taking this diplomatic crossfire seriously as a result Italy's deputy Foreign Minister will arrive in Delhi today to hold meetings with officials of the External Affairs Ministry.
Informing the arrival of Junior Foreign Minister Staffan De Mistura, Foreign Ministry said, "Staffan De Mistura will "continue on a political level the action so far carried out by a delegation of experts from the Italian foreign, defence and justice ministries."
Beside this, another side Italian judiciary claimed the happening of incident was only because of fault of the two Indian fishermen that behaved aggressively and was repeatedly warned before the shots were fired.
Claiming the Enrica Lexie, Italian shipping company for the incident, a slain fisherman's family has filed a petition against it whose hearing will be today in High Court. The family demanded that the Italian ship – the Enrica Lexie – should not be allowed to leave Kerala till it compensates them for his life.
Meanwhile, today duo facts related to "cold-blooded murder" to be discussed- a petition to be heard and other is Ministers of India and Italy will meet over the diplomatic issue. They will discuss the required steps for effective solution over political crisis in form of showing cooperates in the ongoing investigations.
Tagged as: Delhi, Enrica Lexie, Featured, FIR, Indian Fisherman Death, Italy minister, Kachi Police, Kerala High Court, MEA, NTN, Staffan De Mistura

Published by Himmat Mehra in: India News
If you like this blog please take a second from your precious time and subscribe to my rss feed!