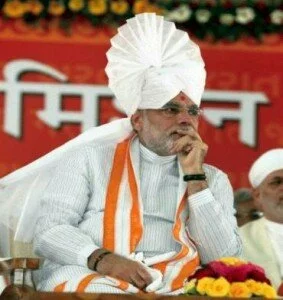 Today Gujarat Chief Minister Narendra Modi, the BJP leader goes one step ahead to strengthening the peace and communal connection between all the people for removal of the caste crisis from the nation in form of a day fast in Godhra.
Godhra is the place where at least 1200 people were killed in riots of caste on 2002 and most of them were of Muslims. Modi's a day long fast is just an attempt to create and spread harmony and peace, that is calling a part of his 'Sadbhavna Mission' that started on last September 17 in Ahmedabad.
During ''Sadbhavna Mission'' Modi has traveled many states and fasting in it, now its 23rd fast is in Godhra that is just one month ahead of 10th anniversary of Godhra carnage where 59 persons were killed when the S-6 coach of the Sabarmati Express was blast with fire on February 27, 2002.
Due to having several riots on it Police securities is going to be alerts. The stage at the State Reserve Police (SRP) Ground where fast is organized covered with CCTV' camera for the securities of around 50,000 audiences that attends this event and 8000 people that are also on fast in support of Modi.
However before get started this event, Police had arrested activist Shabnam Hashmi and five others in form of planning a resemble convention as his fast. The activist asked, "They have stopped and arrested us. We just want to go ahead with our convention. I don't understand what are they afraid of? What are we saying?"
In form of protesting against Modi's fast, the opposition Congress party along with NGO's are calling Modi's fast a 'political drama' and 'wastage of public money by fasts'. "This is a political drama. Modi is wasting public money. Why is he not visiting any riot victims," Gujarat Congress leader Shaktisinh Gohil commented on Modi while interacting with Media. He said the arrest of activists shows Modi's dictatorial approach.