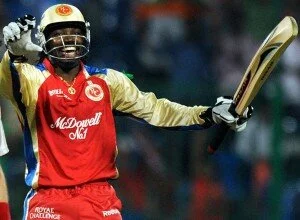 As per the fresh cricket updates, the pitch hitter batsman from West Indies Chris Gayle has been selected in the Royal Challengers Bangalore (RCB) team for the coming two seasons of the Indian Premier League (IPL).
Last year, he was the highest run scorer in IPL and he won the Orange Cap. Gayle played for RCS in the Champions League Twenty20, earlier, he was a team member of Kolkata Knight Riders in the first three IPL seasons.
While talking to media, Director of Royal Challengers Sports Pvt Ltd, Siddhartha Mallya said, "We are delighted to make Chris Gayle a permanent member of our IPL squad. He is one of the best batsmen in the world. His form helped us qualify for the final of the 2011 edition of the tournament."
He further said, "We are confident that with players like him in our side, we will take the extra step this season, and win our maiden IPL title."
On the other hand, talking to media after his selection in RCG, Gayle said, "I had a great time representing RCB last year. It is a terrific outfit. The players are brilliant. They are complemented by the support-staff and administrators, all of whom have gone out of their way to make the players comfortable, and give them the freedom to express themselves on the field. To me, Bangalore has been a home away from home."
In addition, the IPL Chairman Rajiv Shukla told media that Gayle will heat the IPL with his sparking batting performances.
Mr. Shukla said, "Chris Gayle is one of those cricketers who was born to excel in all formats of the sport. He was at his destructive best in IPL 2011, and one can safely assume that we will see a lot more fireworks emanate from his blade, in the forthcoming IPL seasons."