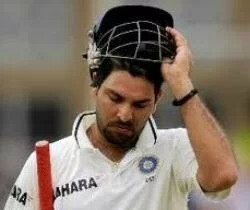 According to the fresh reports from the world of Cricket, the superb middle-order batsman Yuvraj Singh has been dropped from the Indian team for the final test match starting at Mumbai on Tuesday.
However, Rohit Sharma was now included in the team as replacement for Yuvraj Singh. Rohit hit a superb 175 runs against Railways and a 100 against Rajasthan in the Ranji matches.
Rohit, the local boy from Mumbai, will be playing his first test match though he was the part of the team earlier. There are reports that Virat Kohli will play the third test match at Mumbai.
Yuvraj's exclusion is the only change in the team that credibly won the first two Tests against the West Indies. The southpaw was the lone failure among M.S. Dhoni's men and scored 23, 18 and 25 in the three innings he batted during the course of the series.
After his Test debut in 2003, Yuvraj is yet to cement his slot and in 37 matches, has scored 1,775 runs at 34.80.
The team:M.S. Dhoni (captain & wicket-keeper), Gautam Gambhir, Virender Sehwag, Rahul Dravid, Sachin Tendulkar, V.V.S. Laxman, R. Ashwin, Pragyan Ojha, Ishant Sharma, Umesh Yadav, Virat Kohli, Rohit Sharma, Varun Aaron, Ajinkya Rahane and Rahul Sharma.
Coach:Duncan Fletcher.