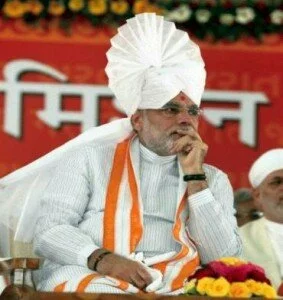 Today Gujarat Chief Minister Narendra Modi, the BJP leader goes one step ahead to strengthening the peace and communal connection between all the people for removal of the caste crisis from the nation in form of a day fast in Godhra.
Godhra is the place where at least 1200 people were killed in riots of caste on 2002 and most of them were of Muslims. Modi's a day long fast is just an attempt to create and spread harmony and peace, that is calling a part of his 'Sadbhavna Mission' that started on last September 17 in Ahmedabad.
During ''Sadbhavna Mission'' Modi has traveled many states and fasting in it, now its 23rd fast is in Godhra that is just one month ahead of 10th anniversary of Godhra carnage where 59 persons were killed when the S-6 coach of the Sabarmati Express was blast with fire on February 27, 2002.