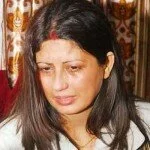 According to latest reports, Anuradha Bali alias Fiza, estranged wife of ex-Haryana deputy chief minister Chander Mohan, was today found dead at her Mohali residence under mysterious circumstances.
Fiza, 39-years-old, was a former assistant advocate general of Haryana, was found lying on her bedroom. As said by SHO Kulbir Singh to media.
Talking to media, a senior police official said that the dead body of Fiza was recovered by the police in a ground floor bedroom was in a decomposed state and she might have been died 4-5 days back.
Police official said, "At this stage nothing can be stated on whether it is a case of suicide."
Further, police said that no suicide note was found from the bedroom.
The state police opened the house after people reported foul smell coming from Fiza'a flat.
Fiza, real name Anuradha Bali, came into media limelight after her marriage with Chander Mohan. Chander Mohan was disowned by his father and former chief minister Bhajan Lal after he married Fiza.
Meanwhile, sources said that Fiza is now planning to join BSP political party.