The conflict of a Mali intervention with Islamist militants never seem to be end so soon as reports are that atleast 350 British troops could be deployed to Mali and West Africa to train other military forces to get out militants.
Among them, 200 would be to West Africa, outside Mali, to train troops from other African nations, as per reports it would be addition to upto 40 British military experts that could be deployed to train Malian troops as part of a European Union French-led mission.
Media reports suggested that British government denied having any plans for negotiation over the war between Islamist fighters and the Malian government.
Amid chances are of a "protracted guerrilla warfare" face off as French troops are set at the historic city of Timbuktu with their position in combat operations against the Islamist militants who attacked on it.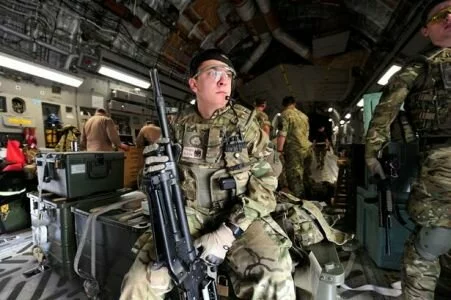 There would be a complete assistance to France led mission by the UK in form of logistic, intelligence and surveillance train, but not involved in a combat operations against the militants, David Cameron, British Prime Minister ruled out.
Beside troops' power, UK govt will also offer a roll-on, roll-off Merchant Navy ferry to transport equipment to the French military and also permit U.S. allies to fly air-to-air refuelling missions from British airbases in support of the French against militants, reports said.
Around 90 British personnel already deployed in Mali with 20 RAF crew, a RAF Sentinel spy aircraft and two C-17 transport aircraft operating in support of carrying equipment from France to Mali.
However, discussion will be ongoing over British power assistance on the French led Mali operation at an international donors conference for Mali hosted, by the African Union, in the Ethiopian capital, Addis Ababa, reports further added.
Another one would be in Brussels on detail of which countries will contribute troops for an EU French led mission.