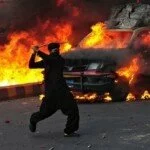 At least 19 people have killed and more than hundreds wounded after fresh clashes stormed between protesters and police across Pakistan over US made anti-Islamic film and French's Prophet Cartoons mocking Islamic religion.
On Friday, after the prayer, across Muslim countries, thousands of protesters came into streets, protesting against the "Innocence of Muslims" film, fired buildings and tried to march US embassy in Islamabad.
The protest turned violent after a clash between police and demonstrators erupted in the country's five major cities while more than 45,000 members of right-wing religious group, banned terror groups, seeking to burn the compound.
As per reports, to make control over the protesters who torched cars, threw rocks and attacked police with sticks and firebombs in Islamabad, security forces disperse efforts to spare the US embassy from thousands of angry demonstrators, and for that police used rubber bullets and tear gas.
In Karachi, amid protesting fire targeted the cinemas, banks, shops and restaurants, while report said, at least 12 people were killed during protest of film near US consulate, in Peshawar, the number of death was five.
Worried US government ordered to shut down Western diplomatic offices and missions across Pakistan as well as Muslim countries and americans warned not to travel to the country, fearing a further violent blackash over anti-Islamic film "Innocence of Muslims" that has spread across the world.