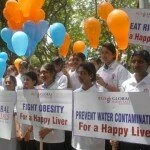 If you have liver regarding problems then you should change your food habits.
As per saying by gastroenterologist experts on World Liver Day, new generation lead to sedentary lifestyle and use liquor, street's junk food in their diets that directly harm liver, a large functional reserve of the body.
In India, more than 2 lakh cases have been under examination in which people infected with liver disease and die cause of liver failure.
The one common reason of liver failure is of alcohol. Due to consuming large amount of alcohol, a healthy liver infected by Hepatitis-B and Hepatitis-C that damage is, causing of liver cancer.
Bulk of cirrhosis is also cause current epidemic of obesity and diabetes. Dr ST Gopal, consultant medical gastroenterologist told reporters, "More than one lakh people are diagnosed with Hepatitis-B and Hepatitis-C every year. These liver diseases— primarily affect people in the age group of 30-50 years. In Bangalore alone, about 10,000 people suffer from chronic liver diseases."
As per experts report, hepatitis infections can be transmitted sexually, therefore one should have protected during intercourse. People should never share razors, nail clippers or toothbrushes with anyone, if they want to safe from Hepatitis-B.
If we say about the symptoms of liver diseases, rapid weight loss, stomach pain, fatigue, a lot of itching and loss of appetite are early ones. Exact measure of 'alcohol units' is required to know as one unit equal to a small glass of wine, half a pint of beer, or a single measure of spirits.
"Women should not drink more than one or two units a day. Men should not drink more than two or three units a day. More importantly, one should not indulge in binge drinking," source reportedly said.