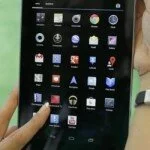 A win-win battle of the Google Inc against Apple's Smartphone, finally come with its most awaiting debut in the tablet market, launching its Nexus 7 tablet with latest version of Android at its annual developers conference Google I/O, in San Francisco.
7 Inch Google Nexus 7, manufactured by Asus is ready to defeat the Apple's iPad and other Smartphone, the recent one of Microsoft Surface, to capture the tablet market. In the tablet wars, Amazon's Kindle Fire, a 7-inch tablet is also at Google target to down on ground, according to reports.
Weighing just 340 grams Google's first tablet has featured with a 7-inch screen and 1280×800 pixels resolution, is powered by quad-core Tegra 3 processor with 12 core GPU and support preloaded multimedia content, including Transformers: Dark of the Moon movie, magazines like Conde Nast Traveler and Popular Science, and songs from bands like Coldplay and the Rolling Stones.
More lightly Nexus 7 is run on latest version of Android, nicknamed Jelly Bean which facilitates more improved quality of touch, search and Google Maps.
Reports suggested, the tablet has a 1.2MP front camera support Wi-Fi with default Google's Chrome browser for surfing the web. It has Google Now- a refinement of Google's search service provides personal information capture from your Google history.
Tagging with cost of $199, Google's initial tablet is affordable for customers as compare to Apple's cheapest iPad. The interested users can buy Google's initial tablet from Google's online store Google Play, with delivery starting in the U.S., Britain, Canada and Australia in mid—July, Google said in a statement, source reported.
Meanwhile, beating the unsuccessful version of iPad, with its Nexus devices, Google encourage its partners and developers to add more tablet apps for Android to hit more than million newly activated Android devices in the world.
Beside this, the world's No. 1 search engine has also announced Nexus Q, a home entertainment hub at the I/O conference, which combines the power of Android and Google Play to easily stream music and video in your home to be fully controlled by an Android phone or tablet, as per source said.
Much disappointing fact is that still Indian users have to wait for Google's tablet, because no conformation has to be made regarding its availability in India.