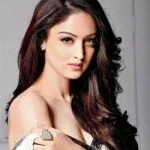 The Hindi film industry is well aware of the anger of Salman Khan. Sandeepa Dhar, who shares careen with Salman Khan in the Dabangg 2, shared similar expectations before meeting Salman Khan.
Sandeepa will share a cameo role in Salman's Dabangg 2.
Talking to media, Sandeepa said, "I am so happy to be a part of Dabangg 2. I never thought my second film will be with 'The Salman Khan'. When Dabangg released, I was shooting in Rajashri and everyone there is a Salman fan, so we all went for special screening and then I never thought I will be part of Dabangg 2."
Like any other newcomer in the industry, Sandeepa also dreamed Bollywood. She said, "I was scared of Salman. I always had the impression of Salman as an angry man. I didn't know what to expect. My first day shoot was with Salman and I waited on the steps. He arrived, sat besides me and spoke to me. I didn't want him to think that I am not aware about my work, but he put me at ease."
When asked about her experience with Salman Khan, she said, "I learnt a lot from Salman. He has so much experience. He is constantly laughing on the sets. At first, I wondered how he can chill and yet give a shot. Later, I realized that when he is chilling, he is constantly thinking about his shot. Salman is a one take actor."
At the end of her interview, Sandeepa Dhar said, "If ever I spend 25 years in the industry, I wish to be like Salman."
The film 'Dabangg 2' is directed and produced by Arbaaz Khan, Sonakshi Sinha and Salman Khan plays lead role and the film will release on December 21.