BrahMos, the Indo-Russian supersonic cruise missile successfully tested from underwater in the Bay of Bengal off Visakhapatnam coast, becoming India the world's No. 1 to have such powerful missile.
The missile is of over 290 km-range submarine variant of BrahMos and it has taken full its range capability while travelling, the official source said.
Testing successfully of an underwater supersonic cruise missile in the world, now the missile will be used in the Indian Army and the Navy project.
Perfect as well as all set to be in the Navy's future submarines under Project 75-I, the missile will make the platform one of the most powerful weapon platform in the world,  BrahMos chief A Sivathanu Pillai told reporters.
Defence Minister A K Antony congratulated DRDO and Russian scientists along with Navy officers for a milestone launch of missile from an underwater platform, said that the launch was a "wonderful achievement and a proud moment for India."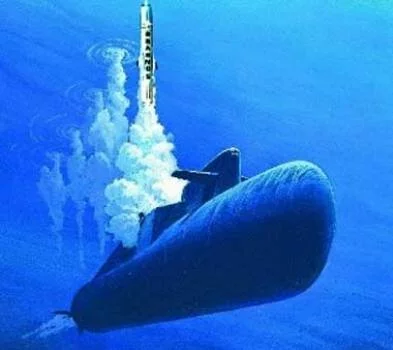 The anti-ship version of the potent missile performed very well lasted about 400 seconds.
All telemetry and tracking stations and naval vessels positioned along the flight path confirmed the accuracy of the mission, source said.
The BrahMos missile has the fastest speed of Mach 2.8, to carry a conventional warhead of up to 300 kg and that's why BrahMos is the one of the fastest cruise missiles in the world.