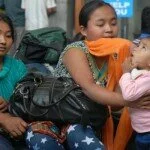 The situation of Northeast of Karnataka and Tamil Nadu has worsen and continually huge number of Northeasters flee from I-T city to Guwahati, among them 5000 are students and professionals who left their jobs, fearing the rumours triggered by SMSs and MMSes.
Union Home Secretary RK Singh blamed Pakistan for sourcing objectionable and threatening bulk SMSes and pictures of the recent violence in Assam in form of MMSes on the Internet that raised attacks in Northeast parts of Karnataka, Tamil Nadu and Maharashtra led to Northeast exodus.
"Pakistan is trying to create trouble by inciting people… This exposes its attempt at cyber warfare against India," Singh told reporters, adding that around 100 websites have been identified by the Ministry of Home Affairs officials that are uploaded with false and morphed images from Pakistan.
Even he also said that there are enough evidence in hands of IB and State Police that prove a Pakistan connection to the morphed images, adding that the matter would be forward to external affair ministry.
Yesterday, the government said to take the matter with neighboring country. The bulk MMSes were those who died in cyclone Nargis in Myanmar and shown as victims of the Assam violence, source said.
However, home ministry instructed the search engine giant Google to give full details regarding the IP address and other relevant information that assist to trace that from where these threatening and false messages, morphed images firstly sourced.