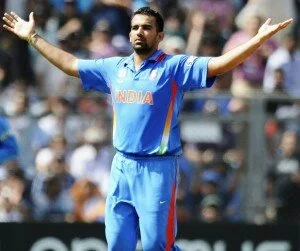 As per the latest cricket updates, the captain of the Sri Lankan team Mahela Jayawardene has won the toss and elected to bat against India in the second one-day international of the tri-series at the WACA in Perth on Wednesday.
The latest cricket scoreboard says, Sri Lanka has lost their first wicket in the form of WU Tharanga with just 12 runs on the board. Zaheer Khan took the wicket of WU Tharanga with 4 individual score.
So the good news is that opener V Sehwag is playing in today's match but his partner Gautam Gambhir is left out for the match, while Rahul Sharma is injured.
Fast bowler Zahher Khan is also playing in final 11 today and his addition in the team will further strength the team India.
After winning the toss, Sri Lanka captain Mahela said, "Looks like a vary good batting wicket. We need to adjust to different conditions, we are looking forward to the first game of the series. We finished off well in South Africa. It's good to be back [as captain], it is a new challenge for me."
While, MS Dhoni said, "We have a couple of changes. Sehwag back, Gambhir is out, Rahul Sharma is injured, Zaheer Khan is back."
So, the things are now clear, India will rotate with their three top players Tendulkar, Sehwag and Gambhir, in this series to give the younger batsmen a longer run.
Three medium-pacers for India then, gives their attack a more balanced look compared to the one that played at the MCG
Sri Lanka team :-
TM Dilshan, WU Tharanga, KC Sangakkara†, LD Chandimal, DPMD Jayawardene*, AD Mathews, NLTC Perera, KMDN Kulasekara, SL Malinga, KTGD Prasad, HDRL Thirimanne
India team :-
V Sehwag, SR Tendulkar, V Kohli, SK Raina, RG Sharma, MS Dhoni*†, RA Jadeja, R Ashwin, R Vinay Kumar, P Kumar, Z Khan
Umpires NJ Llong (England) and PR Reiffel
TV umpire BNJ Oxenford
Match referee AJ Pycroft (Zimbabwe)
Reserve umpire IH Lock