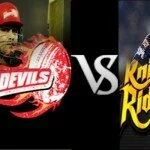 The first qualifier match of the Indian Premier League 2012 [IPL 2012] will be played between Delhi Daredevils [DD] and Kolkata Knight Riders [KKR].
The match is scheduled to start at 8pm local time live on Set Max and will be played at Subrata Roy Sahara Stadium, Pune 22 May 2012 – day/night (20-over match).
Both the teams are equally strong and fans will get to see an interesting fight. Delhi Daredevils have strong batting line-up with opening pair of Virender Sehwag and David Warner. Irfan Patha, Jayawardene, and Taylor can give best middle-order batting to their team.
The bowling attack will be led by Morne Morkel and he will be helped by Aaron and Yadav, S Nadeem will give spin bowling support to his team.
On the other hand, Kolkata Knight Riders also have very strong batting line-up. Opening with skipper Gautam Gambhir and McCullum, middle order will be powered by South African all-rounder Kallis and Yousaf Pathan. KKR has another all-rounder and their last match hero Shakib Al Hasan.
Bowling attack for KKR will be led by Lee, Kallis abd Balaji and Narine will give spin attack.
Delhi Daredevils squad
V Sehwag*, MC Juneja, VR Aaron, AB Agarkar, P Bisht, R Bist, GH Bodi, DAJ Bracewell, U Chand, AJ Finch, DPMD Jayawardene, GJ Maxwell, M Morkel, S Nadeem, Y Nagar, PT Naik, P Negi, NV Ojha†, IK Pathan, KP Pietersen, KC Raval, AD Russell, AM Salvi, LRPL Taylor, RE van der Merwe, Y Venugopal Rao, Vikas Mishra, DA Warner, TP Yadav, UT Yadav, Zafir Patel
Kolkata Knight Riders squad
G Gambhir*, S Ladda, L Balaji, R Bhatia, MS Bisla, DB Das, M de Lange, BJ Haddin†, Iqbal Abdulla, CS Jani, JH Kallis, B Lee, BB McCullum†, EJG Morgan, SP Narine, YK Pathan, JL Pattinson, SV Samson, PJ Sangwan, I Saxena, Shami Ahmed, Shakib Al Hasan, LR Shukla, RN ten Doeschate, MK Tiwary, JD Unadkat
Umpires BR Doctrove and SJA Taufel
TV umpire HDPK Dharmasena
Match referee AJ Pycroft
Reserve umpire NA Patwardhan