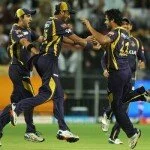 The first qualifier match of the Indian Premier League 2012 [IPL 2012] was played between Delhi Daredevils [DD] and Kolkata Knight Riders [KKR].
The Kolkata Knight Riders had made it possible in the fifth season of the IPL beating Delhi Daredevils by 18 runs in the Qualifier match played at Subrata Roy Sahara Stadium, Pune 22 May 2012 – day/night (20-over match).
Thanks to superb knocks by Yousaf Pathan and Laxmi Ratan Shukla, the two made 56 runs partnership which helped their team to make 162 runs in 20 overs.
The much talked player Yousaf Pathan made 40 runs from 21 balls with three fours and two sixes, and Shukla made 24 from 11 balls with three fours and one six.
Batting second, Delhi Daredevils made 11 runs in the first over, but lost opener Warner int eh second over, and then skipper Sehwag in the third over of the innings, DD was 24 for 2 wickets then. And they recovered thereafter.
Sri Lankan Jayawardene played 40 runs knock but that was not enough for his team to stop KKR to enter in the finals of the DLF IPL 2012. Kallis and Narine took two wickets each in their four overs spell giving away 24 runs each.
KKR owner and Bollywood actor Shah Rukh Khan was also present in the stadium and he was so happy after the win of his team over Delhi Daredevils. We can image his happiness with the photo.
Presentation:
KKR skipper Gautam Gambhir said, "We always felt that it was a 140-145 wicket, but when we got 160, we thought it was an above par score. Not only about Kallis, all of them have bowled have bowled very well, lot of credit to all the bowlers including Balaji, Abdulla, Narine and others. We have four days for Balaji to recover from the injury."
DD skipper Virender Sehwag said, "We did not bat well, 160 was chaseable, we lost two early wickets and failed to make it in the last few overs. Aaron and Yadav are bowling brilliantly, cannot sit them out, it was a tough choice but we thought that the grass might help the pace bowlers. We have another chance to get there, we cannot relax, need to go all out."
Man-of-the-Match, Yusuf Pathan said, "Always big hopes from me, not performing in the previous games, but I know that I can get going in a big match. I had a lot of time to get in and adjust myself to the track today. We are waiting for the big game, will relax and await for it eagerly."
The coach of KKR team, Wasim Akram, "Happy to be associated with KKR, great bunch of boys, love to stick around with each other. Long story what's changed from the first four years, but to cut it short, its all because of a very good captain and an enthusiastic owner. We read the wicket well, we played four spinners, they played only one, had they got in another spinner or two, it could have gotten lot closer. My job is to not change's bowler's action, it is to tell them about the different match situations and how to react to them."
Kolkata Knight Riders: B. McCullum c Warner b Negi 31 (36b, 2×4, 1×6), G. Gambhir run out 32 (16b, 3×4, 2×6), J Kallis c Taylor b Yadav 30 (33b, 3×4), Shakib-ul-Hasan c Ojha b Pathan 1 (3b), Yusuf Pathan (not out) 40 (21b, 3×4, 2×6), L R Shukla (not out) 24 (11b, 3×4, 1×6), Extras (w-2, lb-2) 4. Total (for four wkts in 20 overs) 162.
Fall of wkts: 1-48 (Gambhir), 2-87 (McCullum), 3-91 (Shakib), 4-106 (Kallis).
Delhi Daredevils bowling: Irfan Pathan 4-0-20-1, Yadav 4-0-37-1, Morkel 4-0-37-0, Aaron 4-0-48-0, Negi 4-0-18-1.
Delhi Daredevils: D. Warner c McCullum b Shakib 7 (6b, 1×6), V. Sehwag c McCullum b Balaji 10 (7b, 1×4), N. Ojha c Gambhir b Bhatia 29 (28b, 4×4, 1×6), M. Jayawardene st McCullum b Abdulla 40 (33b, 6×4), V. Rao c Bhatia b Kallis 13 (22b), P. Negi st McCullum b Narine 14 (11b, 2×4), R. Taylor c Abdulla b Kallis 11 (8b, 1×6), Irfan Pathan (not out) 6 (3b, 1×4), M. Morkel c Bhatia b Morkel 0 (1b), U. Yadav not out 1 (1b), Extras (b-4, lb-5,w-5) 14. Total (for eight wkts in 20 overs) 144.Fall of wkts: 1-24 (Warner), 2-24 (Sehwag), 3-83 (Ojha), 4-108 (Jayawardene), 5-120 (Rao), 6-133 (Taylor),7-142 (Negi), 8-142 (Morkel).
Kolkata Knight Riders bowling: Balaji 2-0-11-1, Shakib 4-0-36-1, Kallis 4-0-24-2, Narine 4-0-24-2, Abdulla 4-0-24-1, Bhatia 2-0-16-1.
Man-of-the-match: Yusuf Pathan.
Umpires BR Doctrove and SJA Taufel
TV umpire HDPK Dharmasena
Match referee AJ Pycroft
Reserve umpire NA Patwardhan