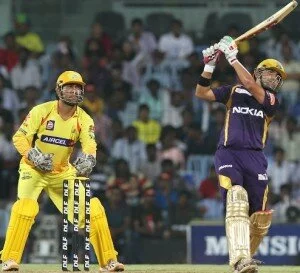 The Gautam Gambhir once again led his team from the team to a fine finish of the Indian Premier League [IPL] match yesterday night against the defending champions Chennai Super Kings.
The Kolkata Knight Riders beat the two times IPL Champions Chennai Super Kings by 5 wickets with two balls to go to finish the innings. The match was played at MA Chidambaram Stadium, Chepauk, Chennai 30 April 2012 – day/night (20-over match).
The Chennai Super Kings won the toss and elected to bat first. Their decision soon proved wrong as they lost their opener F du Plessis with just 5 runs on the board in the second over of the match.
Michael Hussey too fell early. And the Suresh Raina is the only batsman who played some nice shorts, he hit 44 runs from 39 balls with 4 fours and one six.
The Chennai Super Kings team managed just 139 runs from their limited 20 overs match.
Batting second, the Kolkata Knight Riders started poorly as they too lost opener BB McCullum with 14 runs on the board in the 7th over. But skipper Gautam Gambhir played superb knock fromt eh other end, hitting 63 runs from 52 balls with six fours and one six.
KKR needed 11 runs in the last over, and new comer Das hit 2 fours to steal the victory from CSK. He was adjusted as the Man-Of-The-match.
Winning skipper Gambhir said, "Felt good, Chennai fought well, our boys did a good job restricting them to 139. We know we have a lot of potential and quality, we need to a complement each other. Das needs to be given the man of the match.
CSK skipper MS Dhoni said, "Hussey did well, got run-out so that wasn't a bad decision, the surface is not allowing us to play our strokes, the spinners need to come into their own, most teams are doing well because of their spinners. It is not as if the pitch is bad but it is not suiting our strategy."
MoM award to Das. He said, "Seniors giving me a lot of confidence, Gambhir's my mentor."
Scoreboard
Chennai Super Kings: F. du Plessis c McCullum b Lee 3 (4b), M. Hussey (run out) 18 (19b, 2×4), S. Raina c Yusuf b Kallis 44 (34b, 4×4, 1×6), D. Bravo c Abdulla b Kallis 12 (12b, 1×6), M.S. Dhoni (not out) 34 (30b, 2×4), R. Jadeja c Das b Narine 9 (13b), A. Morkel (not out) 13 (8b); Extras (b-1, lb-2, w-3): 6; Total (for five wkts. in 20 overs): 139.
Fall of wickets: 1-5 (du Plessis), 2-32 (Hussey), 3-74 (Bravo), 4-88 (Raina), 5-118 (Jadeja).
Kolkata Knight Riders bowling: Abdulla 3-0-18-0, Lee 4-0-34-1, Yusuf 1-0-10-0, Narine 4-0-24-1, Kallis 4-0-21-2, Bhatia 3-0-22-0, Shukla 1-0-7-0.
Kolkata Knight Riders: G. Gambhir lbw b Bravo 63 (52b, 6×4, 1×6), B. McCullum c Jakati b Ashwin 2 (8b), J. Kallis c Dhoni b Bravo 26 (31b, 1×4, 1×6), M. Tiwary c Yomahesh b Morkel 13 (13b, 1×4), Yusuf c du Plessis b Ashwin 12 (11b), D. Das (not out) 11 (4b, 2×4), L.R. Shukla (not out) 0 (0b); Extras (lb-4, w-8, nb-1): 13; Total (for five wkts. in 19.4 overs): 140.
Fall of wickets: 1-14 (McCullum), 2-84 (Kallis), 3-112 (Tiwary), 4-124 (Gambhir), 5-136 (Yusuf).
Chennai Super Kings bowling: Jakati 2-0-17-0, Morkel 4-0-24-1, Ashwin 3.4-0-22-2, Yomahesh 1-0-11-0, Jadeja 2-0-13-0, Bravo 4-0-27-2, Raina 3-0-22-0.
Tagged as: Chennai, Chennai Super Kings, cricket, Featured, Gautam Gambhir, Indian Premier League, IPL, IPL 2012, IPL 5, IPL Match Highlights, IPL matches, IPL News, IPL T20, IPL Twenty20, IPLT20, KKR vs CSK, Kolkata Knight Riders, Live Scoreboard, MS Dhoni, NTN, Sports, Suresh Raina

If you like this blog please take a second from your precious time and subscribe to my rss feed!