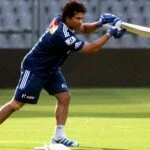 The Indian Premier League will today host the match between two big teams of the IPL 5. Mumbai Indians and Delhi Daredevils are set to play each other in the 19th match of the IPL 5.
The match will be played at the Wankhede Stadium and will start at 8Pm, will be live on SetMax.
The master blaster Sachin Tendulkar is fit to play in the match today. he has played only one match in the league so far.
On Sunday, Sachin spent around d 45 minutes in the practice session, which shows that he has now recovered from his injury.
For Mumbai Indians, return of Sachin Tendulkar in the team will be a bonus point, Sachin will open batting for his team along with South African Richard Levi. Rohit Sharma and Kieron Pollard will be the key players for Mumbai Indians.
On the other hand, Delhi daredevils are now much stronger team, the two big guns from Sri Lanka and England are now with the team. England's Kevin Pietersen and Sri Lanka's Mahela Jayawardene joined the team.
And the most important player in the Delhi team is the skipper, Virender Sehwag. Irfan Pathan has to play a very important role for his team today.
Winning toss would be very curtail today, and the team bowl first, will have great chances to win the match.
Teams:
Mumbai Indians squad
Harbhajan Singh*, AN Ahmed, Amitoze Singh, AC Blizzard, YS Chahal, JEC Franklin, HH Gibbs, DJ Jacobs, MG Johnson, KD Karthik†, Kuldeep Yadav, DS Kulkarni, RE Levi, CJ McKay, SL Malinga, SH Marathe, SS Nayak, PP Ojha, MM Patel, NLTC Perera, RJ Peterson, KA Pollard, AT Rayudu, JN Shah, RG Sharma, R Shukla, RP Singh, TL Suman, P Suyal, AP Tare, SR Tendulkar, AV Wankhade, SA Yadav
Delhi Daredevils squad
V Sehwag*, MC Juneja, VR Aaron, AB Agarkar, P Bisht, R Bist, GH Bodi, DAJ Bracewell, U Chand, AJ Finch, DPMD Jayawardene, GJ Maxwell, M Morkel, S Nadeem, Y Nagar, PT Naik, P Negi, NV Ojha†, IK Pathan, KP Pietersen, KC Raval, AD Russell, AM Salvi, LRPL Taylor, RE van der Merwe, Y Venugopal Rao, Vikas Mishra, DA Warner, TP Yadav, UT Yadav, Zafir
Umpires BF Bowden and SK Tarapore
TV umpire VA Kulkarni
Match referee RS Madugalle
Reserve umpire PG Pathak