A suicide bomb blast rocked US embassy in Turkey capital, Ankara, killing two persons and several wounded, according to police report.
The attack triggered at the entrance of the US Embassy, damaged nearby buildings in the upmarket Cankaya with force, the house of other diplomatic embassies.
However, among injured victims, no one is American, but a member of the embassy's Turkish staff has been killed, the US official confirmed.
The suspected suicide bomber has also died in an apparent bombing outside the U.S. Embassy.
Sources said that a suicide attacker detonated a bomb at the entrance to the embassy's visa section, where dozens of people wait every day.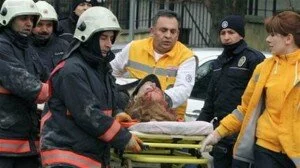 Reports confirmed that explosion caused no damage inside the embassy. The area has been sealed by Turkish security officials.
At least one woman to be seriously injured and being carried into an ambulance, reports added.
However Turkish National Police are now investigating the incident.
No group has come out to claim of responsibility for carry out the attack, but expected to be of Kurdish rebels and Islamic militants or al-Qaeda groups as many bloody attacks in the past has triggered by them.