When still several countries in wait of launch of Galaxy Nexus 4 including India, the rumours aired about Google next version of Nexus.
Leaks have hit the web, revealed the first Look of the underway next LG Google Nexus 5 codenamed Megalodon.
Latest reports suggested that the Google Nexus 5 is set to come with manufacturing partner LG, with even larger, stylish and more powerful flagship Android handset with excellent upgraded configurations.
Google Nexus 5 is expected to be a 5.2 inch OLED phone with large screen of a Full HD 1,980×1, 920 resolution and pack with the latest upcoming Android 5.0 Key Lime Pie operating system.
With power of a 2.3 GHz Qualcomm Snapdragon 800 processor along with 3GB RAM, significantly higher than any other phone, Nexus 5 will reportedly offer in three variants-16GB, 32GB or 64GB of internal storage.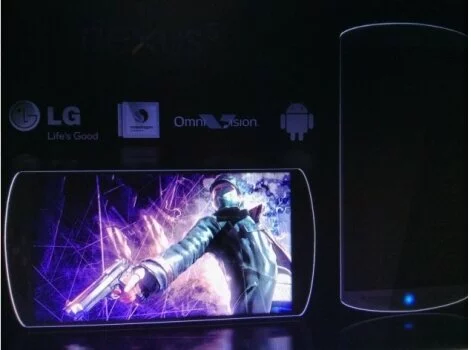 LG Megalodon Prototype is the real deal, as per leaked information which reveals everything big in the Google Next Nexus, seeming to be a real package of blasts as a true powerhouse.
It has said that this phone sports a 16MP rear camera by Omni Vission with 1080p Full HD video recording capabilities alongside a 2.1MP forward-facing snapper and also will have gesture control.
Thus far, still no one Google or LG has come infront of media to comment on this device, expected that Google is currently evaluating several prototypes from different manufactures, but has yet to decide on a manufacturer.