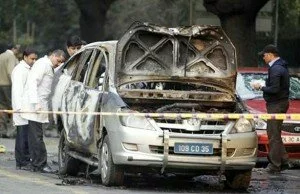 India refused to blame any national group or organization for Monday's bomb attack on a car carrying an Israeli diplomat's wife. But it claimed that it was an act of terrorist group.
Union home minister P Chidambaram confined his response and said, "I am not pointing fingers at a particular group or organization. However, we condemn the attack in the strongest terms."
Investigating agencies has no evidence regarding a particular country, but it is clear that the attack has been executed by a well-trained person in support of a group. The bomb used in the Delhi attack has not yet been used even in a terror strike in India.
Continuing three bomb attack in two days, two are on Monday in Delhi, Georgia and Tuesday's triple blasts in Bangkok are pointed that of a terror strike. The reason behind this is all these took place close to the death anniversary of Imad Mughniyah.
On February 12, 2008, a senior member of Hezbollah, a Lebanon-based anti-Israel militant organization, Mughniyah was killed by Israeli spy agency Mossad in a car bombing.
And being targeted the Israeli diplomat's wife on same day as of death anniversary of Imad Mughniyah, has to proceed that it was a terrorist attack.
The name of Indian Mujahideen, a terror group, is also come in the list of attacker. Security agencies are looking at the possibility of home-bred and neighbouring jihadi elements behind the attack.
But Israel blamed Iran to be behind for the attack. Now India is in a tough situation that to which side it will go.
For strategic and counter-terrorism needs, India depends on Israel. And Iran which support around 13 million tonnes oil supply, has dealt with having great interest of India. If India blamed on Iran then it may face critical situation as of the energy sector is concerned with Iran.
Therefore it is better for India to say anything about a country that may have planned the attack after once the probe is over.