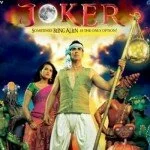 According to latest Bollywood buzz, the upcoming film starrer Akshay Kumar and actress Sonakshi Sinha, Joker's trailer is yet to release but a foot-tapping number from the film is already leaked on twitter.
Shirish Kunder's film Joker's leaked song has created huge noise in cyberspace. Now, people has already started posting tweets about the song on Twitter.
However, the song leak from the film is like a shock to Shirish Kunder's wife Farah Khan and singer Sunidhi Chauhan.
Though, the interesting thing is that the leaked song is the older version of the song which is now changed from I want fakht u to I want Just you.
Here's the reaction tweets:
@SunidhiChauhan5
@[email protected] is this true??Our song from JOKER has been leaked?Can't believe it..We just recorded those lines the other day:(
@ShirishKunder
What the F@[±&!!! Song leaked?! I'm calling the Plumber.
@TheFarahKhan
I guess chori ka fruit is sweeter.;just got 2 know that leaked song of Joker is trending.main hasoon ya rouooun??
@TheFarahKhan
What the ±#¥k !!just found out that our Joker song has bn leaked on youtube!! Will get a heart attack 2day 4 sure!!
@V1SH4L thanx vishal!
But v had changed the "I want fakht u"2 "I want Just you"sometime ago!ths is the old version thts leaked.
@TheFarahKhan
@SunidhiChauhan5 the old version has bn leaked..with "I want fakht you"..ur still sounding great! Trying 2 do damage control since morning.
Here's the leaked song from JOKER