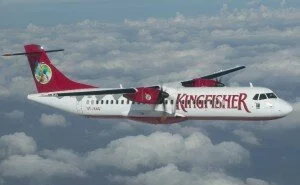 The most debt overloaded Kingfisher Airlines whose 23% equity stake is of Banks, is under serious critical situation as all its lenders left out their hands from any assurance in finance to the airlines due to nonpayment of dues for over six months now.
Being afraid of grounding, KFA has decide to meet within next week to lenders, sit together and discussing significant strategies that may prove beneficial for both to salvage their interest in debt ridden company.
Bank's senior official source said that the meeting among lenders is slated on May 10 in Bangalore.
However, all hopes of any assistance from side of financial institutions have been badly wounded as no one authority ready to give any financial support until payment of due debts as per their last meeting.
They clearly told KFA chief, Vijay Mallya that in stead of seeking any additional financial service from banks, he should firstly explore its equity in the company and clear interest on it existing accounts that are classified as non performing loan.
At present, KFA is dealing with burden of around Rs 7000 crore debt – Rs 1400 crore lent from State Bank of India, Rs 700 crore is of PNB and remaining is from Bank of Baroda and ICICI Bank.
Meanwhile, the condition of KFA is too bad to pay salary of staff that has been outstanding from more than last 6 months.
Even the airline has no sufficient liquid cash to pay its fuel charges, for operational cycling. Recently, a few months ago Kingfisher Airlines has got around Rs 20 crore as token loan for its working capital from Indian Overseas Bank.