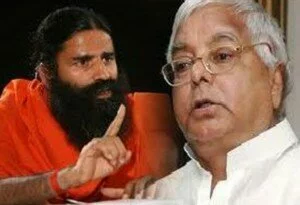 After the verbal war between Anna's core committee team member Arvind Khejriwal and the MPs, now name of yoga icon Baba Ramdev has also added in the list.
In his recent public function in Durg in Chhattisgarh yesterday, Baba Ramdev remarked some MPs are "murderers and robbers". He said, though there are some good members of Parliament, others are "murderers and robbers."
Over such statement, Members of Parliament sharply reacted with their anger and decided for a move as a legal action against people who make "offensive" remarks against MPs.
Reacting yoga guru's statement, Lalu Prasad Yadav, member of Rashtriya Janta Dal, called Baba Ramdev "a mental patient."
"MPs were being openly bad-mouthed by these persons who were calling elected representatives a bunch of thieves, thugs, rapists and murderers," Shailendra Kumar of the Samajwadi Party said while pointing to the Ramdev's remark on MPs made "openly on public platforms".
Such open remarks that were harm the status of ministers treats equally as breach of privilege of Parliament because they lower the dignity of the House, the minister added.
However, verbal war has been started now till the June as Baba Ramdev has decide to campaign against corruption, pressuring the government to get back black money stored by Indians in abroad bank accounts.
Both anti-corruption activists Anna Hazare and Baba Ramdev have announced to share the stage of campaign against corruption and corrupt govt. ministers.
Appreciating core committee member Arvind Khejriwal's statement against MPs, Baba said, "There can be objection on the language or words used by Kejriwal but his contention is absolutely right."