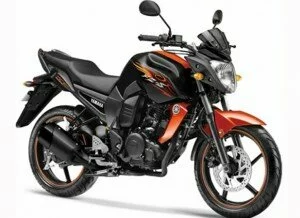 With new variant in line of its FZ model, India Yamaha Motor ready to race on the Indian motorcycle market platform. Yamaha launched its FZ-16 range in India with a new stylish graphics updates to boost market.
Beating the competitors, new orange colored FZ-16 bike features a wider and smooth pillion seat with a redesigned grab handle with a wider rear fender to prevent muck during rainy season and has also a new chain guard.
The company said that this stylish bike having similar power ass like previous version has specified as per driver's needs as with full repositioned liquid crystal display meter console to avoid any hindrance.
In the beginning of FZ series in 2008, the models had appreciated and demanded by youngsters due to their style, look and great comfort with power mileage.
Gaining popularity amongst customers, this new variant of FZ series is an effort to test itself and tried to capture the market by attract towards it.
Unveiling FZ-16, Hiroyuki Suzuki, CEO & MD, India Yamaha Motor said, "Our strategic intent is to provide customers with stylish variant to suite his fashion statement and personality. These bikes have been instrumental in catapulting our sales to an altogether new level. We have kept the essence of FZ series bikes intact while altering the aesthetics to exemplify the masculine feeling these tough machines are known for."
This launching in FZ series is a step to analyze that how the market has responded to bikes in FZ series. "We are confident that these variants too will be an instant hit among the biking enthusiasts," he added.
According to source report, Yamaha's FZ , FZ-S and Fazer models of the series are available at priced Rs 69,250, Rs 71,280 and Rs 76,380 respectively (ex-showroom Delhi).