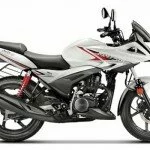 In race of fastest motor bikes, India's largest motorcycle manufacturing Hero MotoCorp landed in the market platform with its new 125 cc motorcycle 'Ignitor', ready to defeating its competitors with well experienced strategy.
On Tuesday, the India's largest two-wheeler maker by sales launched a new road performer, 125cc Ignitor motorcycle, especially for youth. It will be available in three new models—Impulse, Maestro and Ignitor, pricing between 55,900 rupees – 57,900 rupees, at dealerships in New Delhi, source said.
"The company had showcased all these models at the Auto Expo in Delhi in January this year along with yet-to-be launched 110cc motorcycle 'Passion X Pro'," the company said in a statement.
Following the first Hero branded scooter Maestro that was launched recently in March, this newest model is also added features of the 150cc Impulse motorcycle, the first bike launched by Hero MotoCorp after closing the joint venture by Honda from Hero Honda Motors Ltd last year, source said.
Due to having continues sales hike, Hero MotoCorp's share price grew 7.4% from a year earlier during April-June. And now in its rival list Yamaha Motor Co., Suzuki Motor Corp. and Honda Motor Co. name has been added.
Being well strategic planner and stronger performance wise, the company told reporters, "Every new launch of Hero MotoCorp flows from a clear strategy to further consolidate its leadership position across segments. With 'Ignitor', we aim to bolster our presence in the growing deluxe segment."