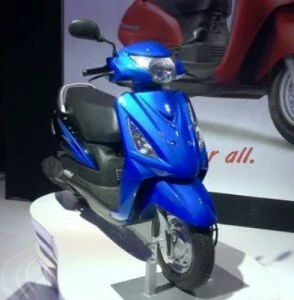 According to the latest Business news, the Auto Expo 2012 is on and all the major companies are ready to showcase their products.
In addition to this, the Auto Expo Suzuki Motorcyles has recently announced to unveil two-wheelers.
Interestingly, Suzuki Motorcycles has unlike its more prevalent models in the west; the company has rolled-out a 125cc Scooter, the Swish and 110cc motorcycle, the Hayate at Auto Expo 2012.
Moreover, the 100-125cc segment is more than 70 percent of the Indian motorcycle market as well as the company wants to be a strong player in this category in the country.
On the other hand, the 150cc plus category is expanding at a very higher rate also commands more margins.
Why wouldn't the company come out with one of the heavier and more powerful machines at the Auto Expo 2012?
While talking to media, Atul Gupta, Vice-President, sales and marketing, SMIPL said, "We do agree that the 150 plus category is growing faster, but this is major market, so we launched these during this Expo."
Further, Mr. Atul Gupta said, "But we do not rule out that we will come out with more powerful bikes."
On the other hand, the company having made its presence felt with bikes like the Hayabusa, coming out with meaner machines will definitely be something that the industry will be watching out for.