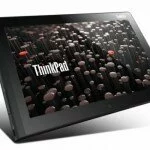 If you are waiting for a powerful Android, but Windows 8 designed Tablet, then you have no need to wait more because Lenovo has introduced its latest ThinkPad Tablet 2, featuring Window 8 Pro.
Hitting its first launching with Window 8 Think Pas Tablet, the company has come in the market to give a toughest competition to its rivals including Samsung.
Lenovo's latest Tablet 2 is powered by the next generation Clover Trail Intel Atom Processor, runs Windows 8 Pro designed for power efficiency and portability and has a 10.1-inch display screen with a high resolution of 1366 x 768 pixels.
In part of connectivity, the ThinkPad Tablet 2 features both 3G and 4G connectivity options, while the LTE network models will be unveiled firstly in the USA only. The device has HDMI-out and an Ethernet jack, a full-size USB port and in form of weights, the Tablet 2 is just around 600 grams.
Window 8 Pro Tablet 2 also supports 2 MG/ 8 MG cameras, noise canceling microphones, HSPA+ and 10 hours of battery life.
Interestingly, Lenovo claims to have NFC (near field communication), a fingerprint reader and a pen which can be showed at back on the tablet.
Moreover, Price tag of this Window 8 Pro ThinkPad Tablet 2 has not reveled by company, but expected that after Windows 8 launches in October, Lenovo's latest and newest tablet will available in October with Windows in the market.