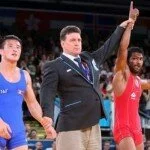 Indian wrestler, Yogeshwar Dutt won bronze medal in Men's 60kg freestyle category wrestling at London Olympics Excel arena after beating North Korea's Jong Myong Ri 3-1 and store fifth medal for India.
In less than 1 hours time period, Yogeshwar who is from Sonepat in Haryana, performed extremely well, hitting three repechage periods successively and secure fourth bronze medal and 3rd Olympic wrestling medal for India.
Four years ago, Yogeshwar had lost a medal at Beijing Olympics, and that willing power to win has brought him this level with extra tactics skills and winning desire. As he had said that if he got a medal in Beijing Olympics, then he would have surely defeated at Olympics. His victory is just because of his desire to get an Olympic medal which has kept him ahead.
During first repechage round, 29 years old Indian wrestler kick off his victory against the World Championship runner-up Franklin Gomez Matos of Puerto Rico 3-0 and after it, another successive win air off over Iran's Masoud Esmaeilpoorjouybari 3-1 to strengthening his chances of is medalist.
After two brilliant victories over repechage rounds, Third Indian wrestler brought excellent come back in hunt match against his North Korean rival and defeated him with 6-0.